Cork County Council COVID-19 Community Support Programme has been established to enable the coordination of a multi-agency response in the delivery of much-needed services to vulnerable citizens across County Cork.
Leading Ireland's largest county, Cork County Council, through its programme, will ensure that the wide variety of groups working across the county to assist those in need, will do so in an organized, collaborative and targeted way.  The Council's COVID-19 Community Support Programme will ensure the very best use of the many resources assisting vulnerable persons with their daily needs at this unprecedented time, whether that is by collecting medication, food shopping, social support or making contact at what might be a lonely time for many.
On Sunday 29th March 2020, the Chief Executive of Cork County Council convened (by teleconference) the first meeting of the Cork County Council COVID-19 Community Support Response Forum which committed fully to supporting the Council in delivering on its COVID-19 Community Support Programme. This Forum represents a multi-agency approach comprising senior representatives of both Statutory and Voluntary agencies operating across Cork County, and its important work will ensure commitment and consistency in terms of delivery of the Programme.
The reach of the range of organisations involved is county-wide, among them An Garda Siochana, HSE South, local development companies, An Post, the Civil Defence plus many more voluntary groups, whose rich local knowledge and wealth of experience will feed into a single contact point and system, established by Cork County Council.
Cork County Council has provided a dedicated Community Call Helpline which is a FREE contact number 1800 805 819 with lines open from 9.00am to 5:00pm seven days a week. Those calling from outside of Ireland seeking assistance for a relative or friend should call +353 21 4285517. 
You can also email us at covidsupport@corkcoco.ie or text us at (085) 8709010.
Community Call Helpline Privacy Notice
Covid 19 Support Forum
Information is collected by Cork County Council to allow us to respond to your request for assistance.   Cork County Council has set up this forum as directed by Government during this public health emergency and has a statutory basis for providing this service under Section 66 of the Local Government Act 2001.
In order for us to fulfil your request it may be necessary for us to share your contact details with the relevant local community responders and their agents to allow them to assist you during this time.
Community Responders which are providing support through this forum include:
Avondhu Blackwater Partnership
Ballyhoura Development
West Cork Development Partnership
IRD Duhallow
SECAD Partnership
An Gárda Síochána
Health Service Executive
Cork County Fire Services
Red Cross
Local Link Cork
GAA
Alone
Community Welfare Service
Tusla
Cork Volunteer Centre
Irish Farmers Association
Age Friendly Alliance
Citizens Information
An Post
Comhar na nOileán
Údarás na Gaeltachta
 
The protection of your personal data is a key priority for the Council and your data will be processed in line with our privacy statement.  All personal data submitted will be deleted at the end of this public health crisis.
If you have any further data protection queries please email dpo@corkcoco.ie  or write to the Data Protection Officer, Cork County Council, County Hall, Carrigrohane Road Cork, Ireland.
How to Volunteer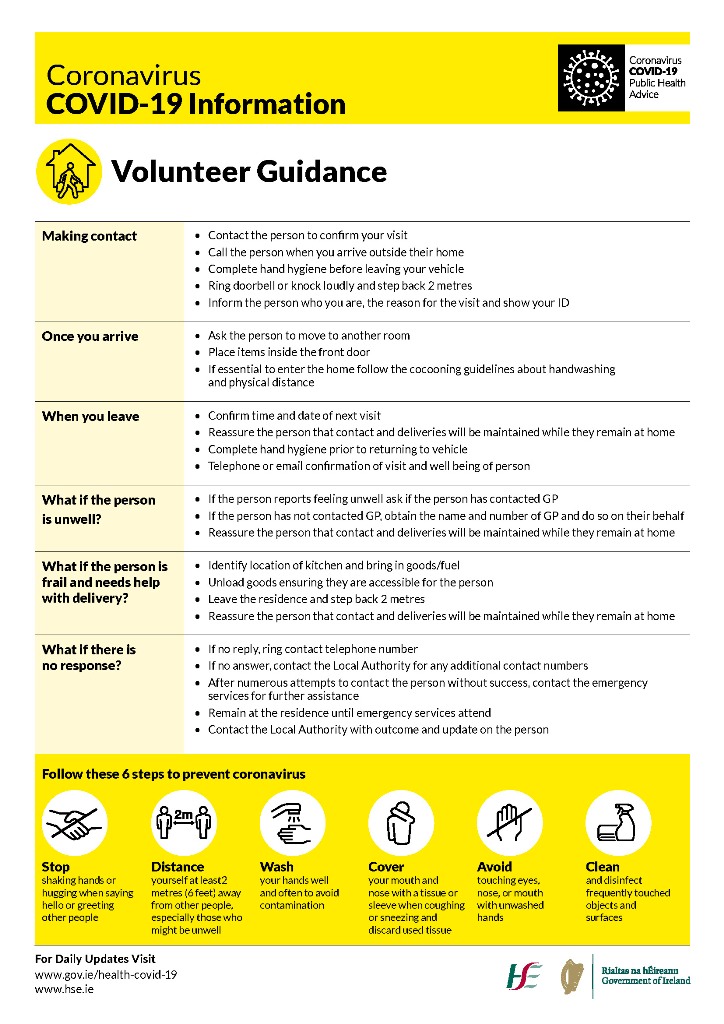 Community Call National Leaflet
Please click the following link for the Community Call National Leaflet.