REWARDING READS
Cork County Council Library and Arts Service is reminding everyone that they can 'Start a new story' and discover lots of rewarding reads through their library, even while Covid-19 restrictions are in place. 
Recognising that we might all be looking for a little distraction over the coming winter months, libraries across the country in partnership with Creative Ireland are letting everyone know that a wealth of books for all ages and all interests are available through the library, and reading can be an excellent way to relax, escape, boost creative wellbeing or learn something new. 
Online library services, including free access to e-books and e-audiobooks, will continue throughout all stages of the Government's Living with Covid-19 plan. All library members have access to these services completely free, and anybody can join online at Libraries Ireland or by contacting your local library. 
The Rewarding Reads campaign features a diverse range of Ireland's literary icons, from classic writers to new talents, as well as books across all genres. Authors featured in the campaign include Flann O'Brien, Emma Dabiri, Vicky Phelan, Roddy Doyle, John Boyne and Sally Rooney. 
Look out for the campaign on social media and send us your best attempts at flash fiction at home to our social media.
Find out how to access thousands of e-books and e-audiobooks as well as other eLibrary services like online magazines, newspapers, online classes and more at library online.
Cork County Library's 2021 calendar
Would you like to be part of Cork County Library's 2021 calendar? Well, now is your chance! 
Cork County Library & Arts Service, in conjunction with Creative Ireland, would like you to draw us a picture on the theme of 'From A To Zoom- My 2020'. 
You can interpret this theme however you like, but your picture must be no bigger than A4 landscape. There are three age categories, under 7 years, 7-9 years and 10-12 years, with four winners in each category, so you have plenty of chances to win! 
All 12 winning pictures will be included in the Cork County Council Library and Arts Service calendar 2021. 
All entries must be posted, with an entry form, to 'Cork County Library, Carrigrohane Road, Cork T12 K335' on or before the closing date of Wednesday 4th November 2020. Good luck!
Cork County Council Library during Level 5 restrictions
As the country moves to level 5 restrictions, from Thursday October 22nd, Cork County Council Library will move its services online. 
A wide range of e-books, audiobooks, e-magazines, e-newspapers and e-courses are all available free of charge. From our website you can join the library and access a full range of free online services from home. You can access BorrowBox for e-books and audiobooks, RBDigital for e-magazines, PressReader for e-newspapers, Transparent Language for language learning and UniversalClass for online courses. These can all be accessed on your phone, tablet or computer. Find out more here. 
The staff of the Local Studies Library are still available to answer your queries about local and family history. The Cork local studies digital collection, which includes previous exhibits, photographic collections, digitized material from our Cork and Irish Collections as well as a selection of local history journals, can be viewed here. You can contact the staff by phone at (021) 4546499 or email localstudieslibrary@corkcoco.ie.  
For further details on other services online, please check our social media for updates. 
For those who were availing of the Book Collection Service, it will not be possible to collect such items from this date. The Housebound Book Delivery Service will be available and you can register your interest by contacting the Cork County Council's Community Helpline or your local library.
The online book request system is paused until further notice but you can still access your account online. Your books will be automatically renewed if they were due to be returned over the next six weeks. If you have requested a book and it has arrived we will keep it on hold until the library is open again. 
If you require assistance, please contact the Cork County Council's Community Call Helpline at 1800 805 819 or email covidsupport@corkcoco.ie.
Thank you for always supporting your local library. 
For any questions or for assistance please contact (021) 4546499, your local library or email corkcountylibrary@corkcoco.ie. 
Cork Bike Week
The Cork Bike Week, why not visit your local library to check out a book about bikes! Books covering a wide range of topics from great cycling routes to bike maintenance to tips on cycling! Or why not check out our bike-related online resources – why not read an e-book on Borrowbox or one of our many bike-related online magazines on RBdigital and Press Reader.
Cork County Council Library is also asking you to "Bling your Bike", in a colouring competition for children, in conjunction with Cork Sports Partnership, to celebrate this with lots of cycling and bike-related book prizes across two age groups ages 5 -8 years and 9 – 12 years! Forms and details can be found at your local library or can be downloaded from our website.
Cork Bike Week Colouring form 1
Cork Bike Week Colouring form 2  

 
Cork County Council Library and Arts Development Plan.
Cork County Council Library and Arts Service is currently preparing a Development plan for the years 2020-25, as the Service wishes to establish how it may best serve its community in the coming years. Library Services, nationwide and worldwide have over the past number of years changed and adapted in response to so many outside factors be they be economic, social, technological or indeed more recently worldwide public health factors. The Library Service plans ahead every five years and now is asking the public to have its say!
This plan will inform how the library service will progress and grow over the next 5 years. You are invited to make comments and observations regarding how you would like your Library Service to develop in that time.
You can do this via www.yourcouncil.ie or by emailing corkcountylibrary@corkcoco.ie or at your local library or by posting your comments to Cork County Library, Carrigrohane Rd, Cork.
View the Library Development Plan invitation in Arabic, English, French, Irish, Lithuanian, Polish, Portuguese, Spanish.
Closing Date for submissions: 5pm on Friday 25th September 2020.
'Tales from County Cork in the time of the Coronavirus'
Our future generations need you! The unique nature of the Covid-19 pandemic and its impact nationally and internationally is something that future generations will be keenly interested in. Of particular interest will be the impact at a county and community level. 
The Local Studies Library has therefore decided to compile a Covid-19 archive of material titled 'Tales from County Cork in the time of the Coronavirus' relating to all aspects of the pandemic, including personal stories, photos and posters from the perspective of children, teenagers and adults.
Forward your material to localstudieslibrary@corkcoco.ie or drop it in to your local library when it is open and they will ensure that the Local Studies Library receives it and stores it to help record history for your children, grandchildren and great grandchildren.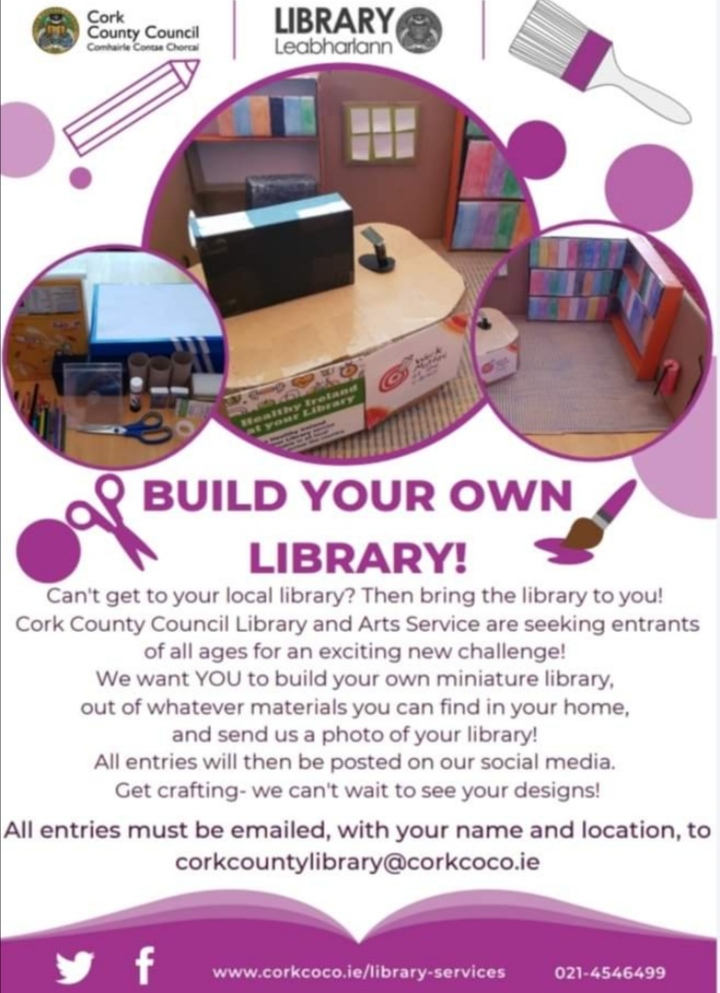 Build Your Own Library!
In response to the COVID-19 public health crisis, Cork County Council is undertaking a broad range of activities, some of which support the general wellbeing of our communities across the county. As part of this, Cork County Council Library & Arts Service is asking you to Build your own library! 
While you may not be able to come to the library at the moment, why not build your own! The library service is  inviting people of all ages  – to build your own library out of recycled materials that you can find around your home and then to email a photo of your library to us. Photos should include your name and location and can be emailed to corkcountylibrary@corkcoco.ie. These will then appear on our social media pages!
We are looking forward to all your entries! 
Take a closer look at your local library on the first ever National Library Open day February 29th. We are issuing a special invitation to everyone in the county to come in and see everything that's on offer. Library staff will show you how your free library card can provide access to the stock of every library in the country from books, dvds, ebooks to internet access, musical instruments, online courses, talks, exhibitions and lots more.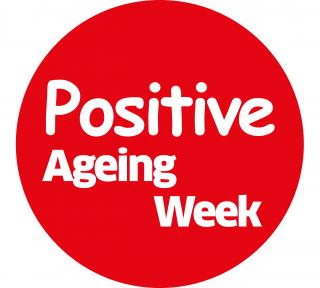 Positive Ageing Week
Positive Ageing Week, which runs from September 30th to October 6th, is about celebrating the older people in our lives and the contribution they make to our families and our communities. Positive Aging Week is an Age Action initiative and the theme this year is focuses on 'Ageing in Place'.  This is 'the ability to live in one's own home and community safely, independently, and comfortably, regardless of age, income, or ability level'. Ageing in Place is not just for 'older' people, it's for all people who want to ensure their quality of life and live it with dignity.
Please download the 'Positive Ageing Week 2019 Event Calender'  to see all the events happening this week in libraries throughout Cork County to celebrate Positive Ageing.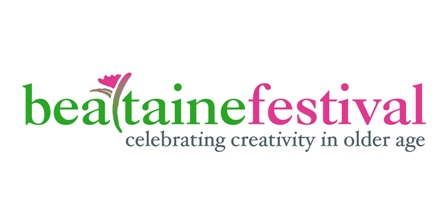 Bealtaine
This festival is a celebration of creativity in older people and is held annually in the month of May.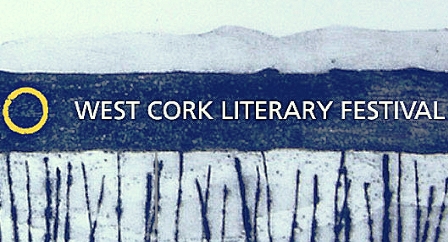 West Cork Literary Festival 
The West Cork Literary Festival takes place every July in Bantry. The festival is well established in the town and offers a range of readings and workshops given by visiting writers. Public readings take place in Bantry Library during the week for the festival.
For more information about this year's programme go to http://www.westcorkmusic.ie/literaryfestival/programme.
Heritage Week
National Heritage Week is coordinated by The Heritage Council and its aim is to build an appreciation and education about our heritage thereby encouraging its conservation and preservation.
To keep up to date with Heritage Week Activities throughout the county, full details will be accessible on the County Cork Heritage Week Events Guide. 
Also check with your local library about events during Heritage Week.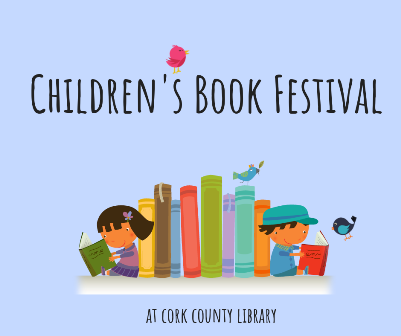 Children's Book Festival
Every October we celebrate the Children's Book Festival with a series of workshops, author visits and competitions.
Check at your local library for details of this year's events.
Summer Reading Programme
Register at your local library to take part in our annual Summer Reading programme and receive your Summer Reading card. This programme is aimed at encouraging children to continue to read throughout the summer months.
For every book you read in July and August, a library reward stamp is added to your Summer Reading card-see how many you can collect!
After the programme, all children who participate will be invited to attend at their local library and will be presented with their award certificate.
Book Clubs
Many of Cork County library branches hold regular adult book clubs. It is always best to check with your local branch as locations and times can vary.
We hold children's book clubs too in selected locations subject to local demand.
Writers Groups 
Writer's groups are held in selected locations subject to local demand.
Please check with your local library for times.
Ciorcail Cainte
Ciorcail Cainte is an informal Irish language conversation group. All levels of Irish are catered for, and everyone is given a chance to partake.
Please check with your local library for times.
Gramophone Circles
Gramophone Circles are also growing in popularity, with a small but increasing number of groups meeting in libraries to present programmes of music of their own choosing.
Please check with your local library for times.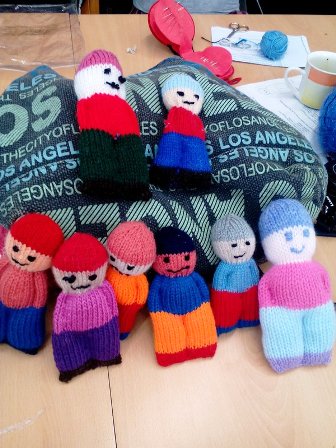 Knitting & Crochet Groups
There are lots of knitting and crochet groups meeting in Cork County library branches.
Please check with your local library for times.