Sean Nós agus Scéalaíocht i gContae Chorcaí do Sheachtain na Gaeilge (Bilingual)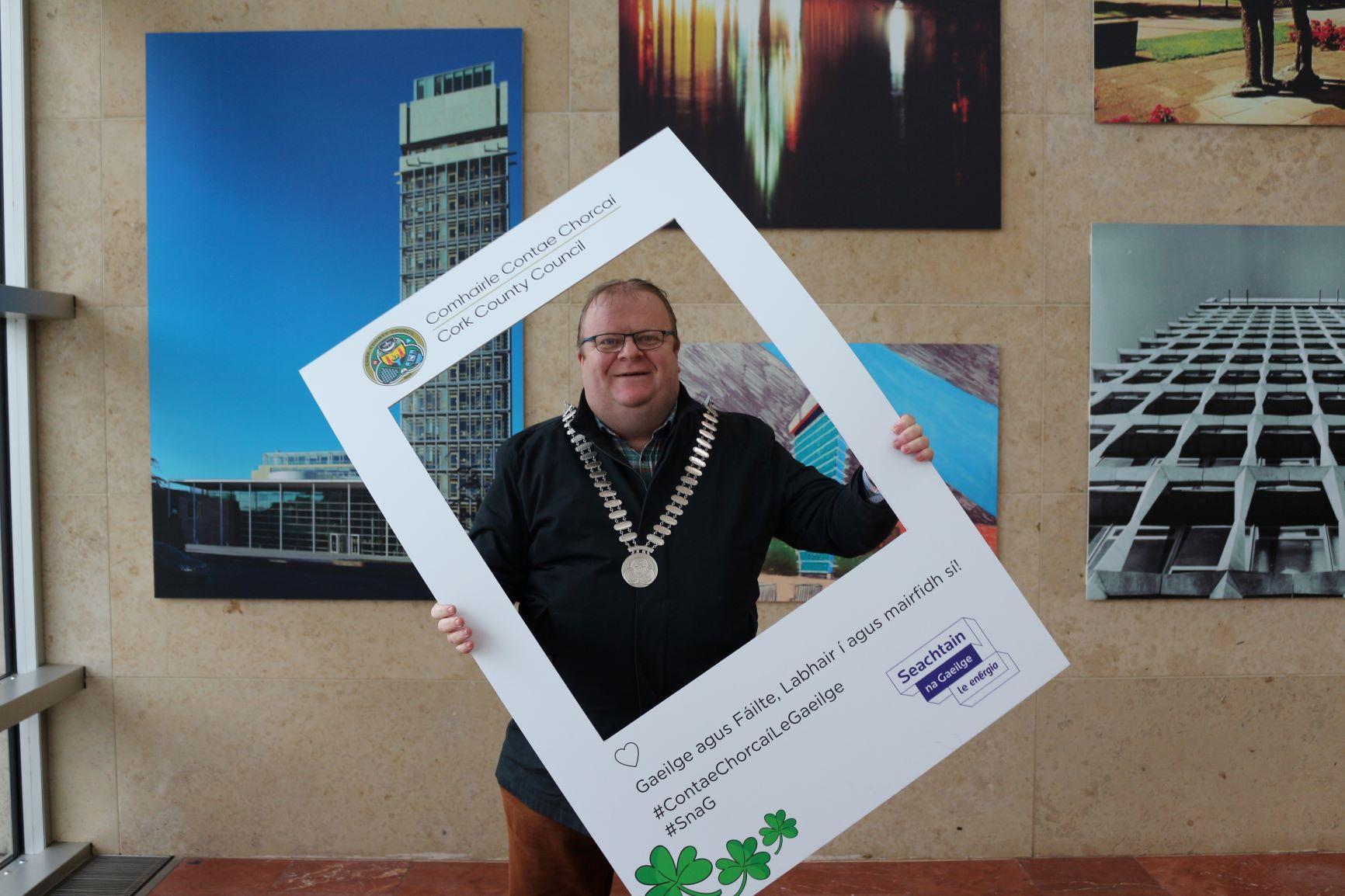 Tá sraith imeachtaí saor in aisce fógartha ag Comhairle Contae Chorcaí chun Seachtain na Gaeilge 2023 a cheiliúradh. Ritheann Seachtain na Gaeilge ón 1 go dtí an 17 Márta.
Ag fáiltiú roimh fhógra na n-imeachtaí, dúirt Méara Chontae Chorcaí, an Comh. Danny Collins,
Ar an Aoine, 3 Márta, tabharfaidh an t-údar Carmel Uí Cheallaigh cuairt ar dhaltaí Ghaelscoil de hÍde i Mainistir Fhear Maí le labhairt faoina leabhar is déanaí faoin Chorcaíoch thábhachtach Anna Haslam, feachtasóir ar son chearta na mban. Ceiliúradh a céad bhliain anuraidh i Eochaill, a háit dúchais.
Ar an Satharn, 4 Márta ag 11.30rn beidh an scéalaí Róisín Murphy faoi lánseol do theaghlaigh le scéalta faoi mhiotais agus finscéalta Ceilteacha i Leabharlann Bhaile Mhistéala. Agus taithí fhairsing aici mar scéalaí do pháistí, úsáideann Róisín as a grá don Ghaeilge agus a taithí ag obair sna healaíona drámaíochta chun meascán spreagúil scéalta a chur le chéile a chinnteoidh go mbeidh leanaí agus daoine fásta de gach aois sáite. Tá an ócáid dhátheangach seo feiliúnach do gach leibhéal Gaeilge.
Beidh an t-amhránaí Ceara Conway in éineacht leis an dordveidhleadóir Kevin Murphy do cheolchoirm saor in aisce sa Mhuileann, Baile Bhuirne ag 8.00in Dé hAoine, 10 Márta. Is féidir le cumadóirí amhrán díograiseacha bheith in éineacht le Ceara le haghaidh ceardlann dhátheangach saor in aisce an tráthnóna dár gcionn ag 2.00in i Leabharlann Bhaile Bhuirne. Foghlaimeoidh na rannpháirtithe faoi chleachtais caoineadh na hÉireann agus dhomhanda, cloisfidh siad samplaí de chaoineadh Éireannach agus Idirnáisiúnta agus foghlaimeoidh siad conas caoineadh  a chanadh le chéile.
Críochnófar an ceiliúradh le Ciorcail Cainte Leabharlann ag óstáil scéalaí agus amhránaí Dick Beamish i Leabharlann Mhaigh Chromtha ar an Déardaoin, 23 Márta. Tá an ócáid speisialta seo oscailte do chách, agus ní gá áirithint a dhéanamh.
Le haghaidh tuilleadh eolais ar Sheachtain na Gaeilge i gContae Chorcaí : arts@corkcoco.ie
Tá sonraí iomlána ar Sheachtain na Gaeilge le Energia
---
Sean Nós and Storytelling in County Cork for Seachtain na Gaeilge
Cork County Council has announced a series of free events to mark Seachtain na Gaeilge 2023, which takes place from the 1st to the 17th of March.Welcoming the events announcement, Mayor of the County of Cork, Cllr. Danny Collins said,
On Friday, March 3rd, author Carmel Uí Cheallaigh will visit pupils at Gaelscoil de hÍde in Fermoy to talk about her latest book on Corkonian Anna Haslam, a women's rights campaigner whose centenary was celebrated in her native Youghal last year. 
On Saturday, March 4th at 11.30am storyteller Róisín Murphy will captivate families with Celtic myths and legends in Mitchelstown Library. With vast experience as a children's storyteller, Róisín has drawn on her love of Irish and experience working in the dramatic arts to put together an exciting mix of stories that will be sure to keep children and adults of all ages enthralled. This bilingual event is suitable for all levels of Irish.
Singer Ceara Conway will be accompanied by Cork Cellist Kevin Murphy for a free concert in The Mills Inn, Baile Bhuirne at 8.00pm on Friday, March 10th. Song writing enthusiasts can also join Ceara for a free bilingual workshop the following afternoon at 2.00pm in Leabharlann Bhaile Bhuirne. Participants will learn about Irish and global keening practices, hear examples of Irish and International lament, and learn to sing a lament together. 
Celebrations will conclude with Ciorcail Cainte Leabharlann hosting storyteller and singer Dick Beamish in Macroom Library on the Thursday, March 23rd. This special event is open to everyone, and no booking is required. 
For further information on Seachtain na Gaeilge in Cork County contact arts@corkcoco.ie 
Full details on Seachtain na Gaeilge le Energia