On this page you will find regular updates on news and events taking place at Cork County Library.
Are you looking for a job or a career change? Are you thinking of starting your own business?
The Work Matters service at your library is a perfect place to explore research and learn new skills.
Work Matters is a national initiative and partnership between Cork County Libraries and Libraries Ireland. It is currently available in Library Headquarters, Midleton and Bantry library.
What can you do? 

•    Explore career information
•    Learn about supports available for jobseekers
•    Develop new skills to boost your CV and job application
•    Search and apply for jobs in Ireland and abroad
•    Research companies and potential suppliers
•    Develop new skills to plan, start and grow your own business
•    Research funding sources for small businesses
•    Explore the market and identify potential customers
•    Research your competitors
•    Connect with like-minded people and share experiences

The Work Matters service includes: 

•    A wide variety of books from job seeking to interview skills and psychometric tests, to starting your own business, entrepreneurship and social media skills 
•    Access to e-books, e-audiobooks, e-magazines and newspapers. Cork County Library Online
•    Chose from 500+ e-learning courses to re-skill, up-skill or broaden your interests
•    Online language learning courses
•    Vision-net business information providing access to company information in Ireland and the UK
•    Designated research and work space with computer access 
•    Wi-Fi and printing facilities 
•    Free access with your library membership. Becoming a library member is easy just click here and fill out the online membership form. Once your membership is processed you can start using the library resources.      
•    Events in the areas of job seeking and entrepreneurship. If you are interested in attending please email corkcountylibrary@corkcoco.ie to be added to the mailing list.  
•    For further information on Business Supports visit Libraries Ireland: Business Support.
•    For further information on Employment Supports visit: Libraries Ireland: Employment Supports
•    For examples of a business plan: 
       https://www.localenterprise.ie/SouthCork/Start-or-Grow-your-Business/The-Business-Plan/ 
•    For examples of CV writing:
       https://www.welfare.ie/en/Pages/Employment-Advice-and-Support.aspx 
       https://www.jobsireland.ie/en-US/careerAdvice 
       https://www.irishjobs.ie/careeradvice/cv-advice/ 
       https://www.irishjobs.ie/careeradvice/cv-templates/ 
For recruitment and course advice:
•    Jobs Ireland: https://www.jobsireland.ie/en-US/JobsIrelandHelp
•    Jobs Ireland Candidate Registration Guide 
For more information, visit Work Matters | Libraries Ireland
Have you longed to learn a musical instrument but didn't want to commit to the purchase of an expensive instrument in case it didn't suit you?
'A Sound Initiative' is a programme intended to allow people to test their skills on a particular instrument before investing a significant amount of money on an instrument of their own.
How it works
An instrument can be ordered by placing a request at your local branch.
The collection will be available to borrowers only via the Cork County Library branch network and instruments borrowed from a branch must be returned to that branch.
Instruments may be borrowed for up to 3 weeks and may be renewed if no-one else has placed a request for it.
For information on the policy in relation to the care of instruments please see the FAQs section of the website and the Policies and Byelaws section.
Instruments available
Violins  –  a selection including 2 each ½ size, ¼ size and 1/16 size
Guitars  –  a selection including several ¾ scale and 2 electric guitars
1 keyboard (digital synthesizer)
1 mandolin
Please contact us on (021) 4546499, or at corkcountylibrary@corkcoco.ie if you have a musical instrument that you'd be happy to donate to the library.
To see the Cork County Library Musical Instrument policy, please check: https://www.corkcoco.ie/library-services/frequently-asked-questions.
Mr Michael Ring TD, the Minister for Rural and Community Development, on Thursday 14th June 2018, officially launched the ambitious new five year strategy for Public Libraries in the Lexicon Library, Dún Laoghaire.
Our Public Libraries 2022– Inspiring, Connecting and Empowering Communities is a progressive strategy which aims to improve access, use and visibility of the library as a community hub, and develop the library as a focal point for community and cultural development. Minister Ring highlighted the vision for the Strategy, which was guided by the public consultation process, as one "of public libraries as attractive and welcoming spaces where all members of the community can access knowledge, ideas and information, and where people can reflect, connect and learn".
Minister Ring continued: "The overall aim is to increase active library membership from 16% of the population to 30% by end-2022.  It will focus on removing barriers to access by eliminating fines and other charges, and challenging the belief that the library is only for certain sectors of society.
The Strategy will enhance digital and technology capacity across the library service. "In terms of technology, we aim to develop digital learning centres in all suitable libraries and extend the My Open Library Service to up to 100 libraries by 2023; positioning the public library as an invaluable community resource." Minister Ring said. Acknowledging the valued role of the librarian in delivering the broad range of services now available, the Minister said "Library staff have been leaders in driving change in our public libraries. I commend your commitment, passion and enthusiasm." The five year strategy is a joint initiative of the Department of Rural and Community Development, the County and City Management Association (CCMA) and the Local Government Management Agency (LGMA).   Tom Enright, Chief Executive of Wexford County Council added "As Chair of the Library Development Committee, which has responsibility for overseeing the implementation of this strategy, I look forward to working in partnership  with all local authorities, the Department of Rural and Community Development, the Local Government Management Agency and all stakeholders in its delivery. Over the next five years, I am confident that the measures undertaken with the implementation of the Strategy will deliver an enhanced library service, more integrated, more visible and more accessible in the local community." Libraries will work with local partners to reach out to those communities that may not consider the library a place for them and increase communities' awareness and use of services available.
The full strategy is available here  agus as Gaeilge anseo.
Making their mark – Women's Road to Franchise, an exhibition by Cork County Library

As part of Cork County Library's Heritage Week and Creative Ireland programme Cork County Library's Local History Dept launched an exhibition, Making their mark – Women's Road to Franchise at the Library Building, Carrigrohane Road, on Mon 20th August. The exhibition was launched by the County Mayor, Cllr. Patrick Gerard Murphy and keynote talk was given by Dr. Sandra McAvoy; formerly of UCC, coordinator of the MA in Women's Studies. 
The exhibition focuses on the background to the suffrage movement in Ireland and Britain. It concentrates on some of the prominent Cork figures involved in the movement; Hanna Sheehy-Skeffington, Anna Haslam and the Munster Women's Franchise League. Also included is Geraldine Laura Lennox a native of Durrus who worked in London and was heavily involved in the Women's Social and Political Union along with Sylvia Pankhurst. Geraldine Laura was arrested for her actions and went on hunger strike for the cause. This Cork woman had a remarkable life. Much of the material on Geraldine Laura was provided by her family, many of whom  attended the launch. 
The exhibition will be on display in the County Library Building from August 21th to September 20th, Monday to Friday from 9am to 5.30pm and it will be on display in Bantry library in October.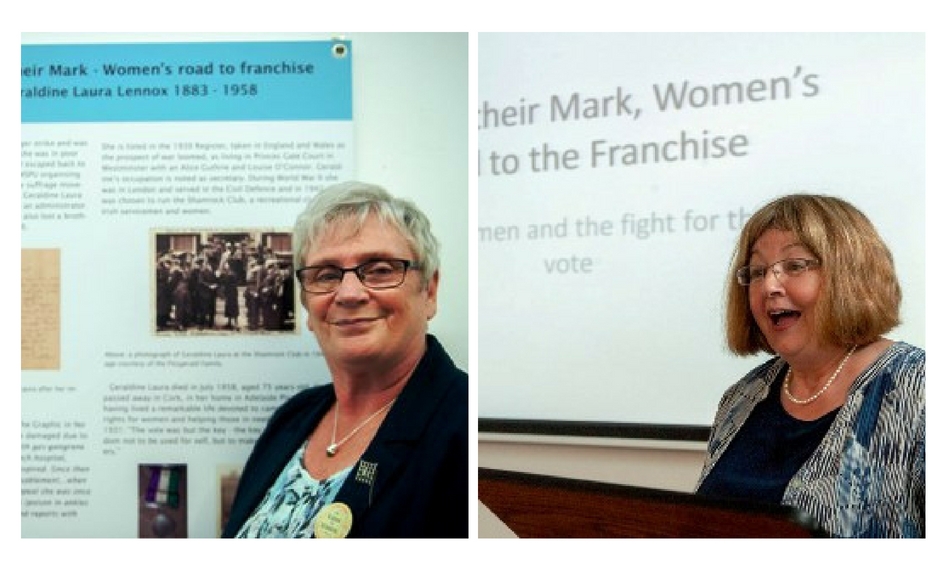 Geraldine Mack – grandniece of Geraldine Laura Lennox, and Dr. Sandra McAvoy speaking at the launch
On International Women's Day, 8th March 2018, Cork County Library hosted a panel discussion to mark the 100th anniversary of women's suffrage, looking at the role women play in the modern social and political order, both in Ireland and internationally. The event was well attended with approximately 50 people attending, all very engaged. There were alot of comments/questions from the floor afterwards, all expanding the discussion further and providing really interesting food for thought.
Author Denyse Woods chaired the discussion which, among other topics, looked at the level of engagement of women in traditional politics, in democracy and in the wider social system. The panellists were Fiona Finn, Chief Executive Officer of NASC, Colette Sheridan, Journalist, Rola Abu Zeid-O'Neill, Lecturer in Women's Studies, Centre for Adult Continuing Education, UCC, and Liz Maddox, Chairperson of the Older People's Council in County Cork.
This interesting and thought-provoking discussion took place, appropriately, in the Council Chamber at County Hall, and is one of a number of events that Cork County Library is organising during 2018 to mark the centenary of women's suffrage. The event is sponsored by Creative Ireland.  
To mark the 150th anniversary of the Manchester Martyrs the Local Studies Library has compiled the following information posters on the subject. The posters are on display at the County Library on Carrigrohane Road and are available to view online here: 
http://omeka-corkcounty.interleaf.ie/items/show/5196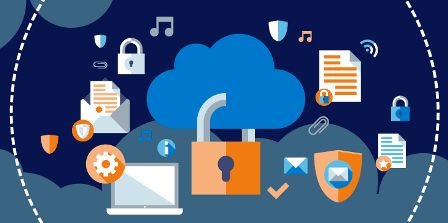 Cork County Council
Data Protection 
Privacy Statement
This statement relates to our privacy practices in connection with this website and associated library services and the Library Management System. Cork County Council is not responsible for the content or privacy practices of other websites. Any external links to other websites are clearly identifiable as such.
Security
Cork County Council takes its security responsibilities seriously, employing appropriate physical and technical measures including the use of a Staff Access Control system with audit controls and staff training and awareness. We have internal procedures and computer interfaced protective barriers to keep your information as safe and secure as we possibly can. We cannot, however, guarantee the privacy or confidentiality of any information, whether or not relating to you as the user, passing over the Internet via non-secured email.
Collection of Customer Personal Data
In order for to provide you with the Library Service and a Single Management Library System services we collect and use the data relating to you as a library user. The only information that is collected by us is information which you chose to send us by email, information provided when opting to take out library membership online or information provided when logging on and using our online services. This data is used to manage and administer the library user's account and for operational reasons and includes:
your name,
your address
your age range
Email Address
Mobile number (optional service)
Any personal information volunteered will be treated with the highest standards of security and confidentiality, in accordance with the Data Protection Acts, 1988 and 2003.
We will only share your data with other Irish Local Authority Libraries for the purpose of providing shared library services and a Single Library Management System and with trusted third parties who provide support to us and to the Single Library Management System and process data on our behalf in accordance with appropriate data sharing confidentiality agreements.
We will only contact you if you have indicated that you wish to receive notifications in connection with the use of the service and wish to receive notifications for forthcoming library events.
Right of access, rectification or erasure
If you would like a copy of the details we hold about you, please write to the Data Protection Officer, Cork County Council, County Hall, Carrigrohane Road, Cork. Please enclose the correct fee (€6.35).
You also have the right to correct any errors in the information held about you, block certain uses or object to the processing of your personal data. Such an instruction must be in writing. A request will be dealt with as soon as possible and will not take more than 40 days to process.
Changes to our Privacy Policy
If we change our privacy policy, we will post the changes on this page, so you will be aware of the information we collect and how we use it at all times. Continued use of the service will signify that you agree to any such changes.