Leader Rural Development Programme 2023-2027 Public Consultation for Carrigaline Catchment Area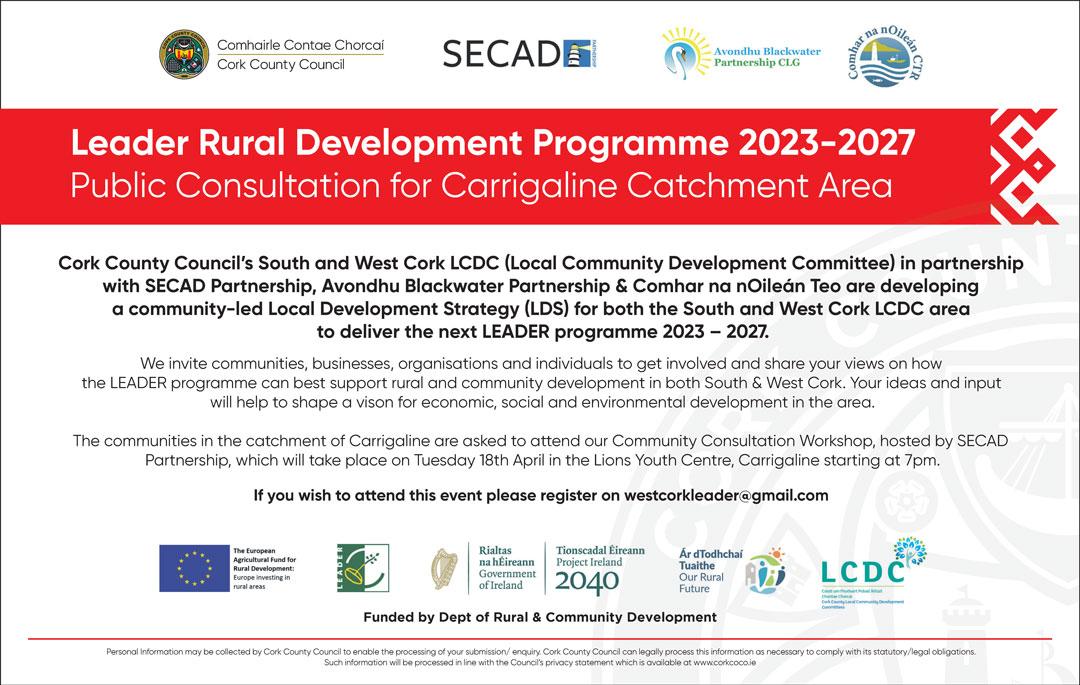 Cork County Council's South and West Cork LCDC (Local Community Development Committee) in partnership with SECAD Partnership, Avondhu Blackwater Partnership & Comhar na nOileán Teo are developing a community-led Local Development Strategy (LDS) for both the South and West Cork LCDC area to deliver the next LEADER programme 2023 – 2027.
We invite communities, businesses, organisations and individuals to get involved and share your views on how the LEADER programme can best support rural and community development in both South & West Cork. Your ideas and input will help to shape a vison for economic, social and environmental development in the area.
The communities in the catchment of Carrigaline are asked to attend our Community Consultation Workshop, hosted by SECAD Partnership, which will take place on Tuesday 18th April in the Lions Youth Centre, Carrigaline starting at 7pm.
 
Personal Information may be collected by Cork County Council to enable the processing of your submission/ enquiry. Cork County Council can legally process this information as necessary to comply with its statutory/legal obligations.
Such information will be processed in line with the Council's privacy statement which is available at www.corkcoco.ie.