Fire and Building Control
Firefighter Careers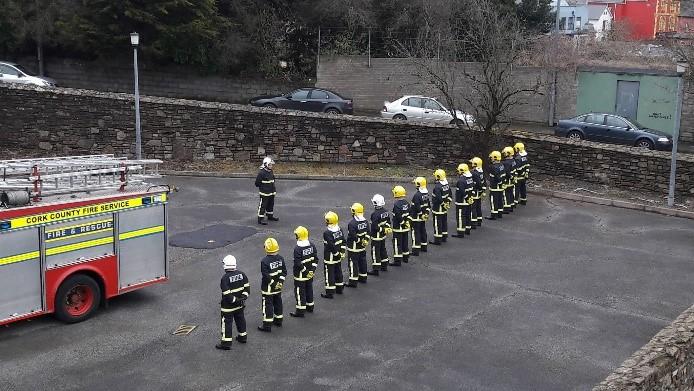 Becoming a Retained Fire-fighter
Cork County Fire Service is a retained fire service. Fire-Fighters are available to respond to incidents on an on-call basis and generally have other work commitments outside of the fire service. Only those who reside and work within 2 miles of the fire station are considered for recruitment. 
Fire-Fighter recruits undergo extensive training as part of a modular training programme. On completion of all modules on the training programme a QQI award in Fire-Fighting Operations at Level 6 on the National Framework of Qualifications is awarded. See below for further information on Training & Development.
Fire-fighter vacancies are advertised on the Cork County Council Website, Cork County Fire Service's Social Media platforms (Facebook & Twitter) and in local newspapers. Positions are open to Male and Female applicants who are a minimum of 18 years of age.
Recruitment Process
An application form, which is available to download on the Cork County Council Website, is submitted before the nominated closing date.
An interview is held, following which successful candidates undergo a medical examination and Garda vetting.
Candidates who qualify from the interview process are entered on a panel from which vacancies are filled as they arise in the brigade for which they applied.
Training and Development
Recruit fire-fighters undergo a full-time 3-week fire-fighting skills course. Once this is successfully completed, they will take up a place on the on-call roster system and will attend incidents with the remainder of the fire brigade crew.
Full-time courses in Breathing Apparatus Use (2 weeks) and Compartment Fire Behaviour (1 week) are typically undertaken within the probationary period of 1 year from recruitment. 
Other training in Hazardous Materials, Transportation Incidents and Pump Operation will be also be undertaken.
On successful completion of the necessary courses, fire-fighters will achieve a Level 6 certificate in Fire-Fighting Operations under the National Framework of Qualifications.
A Category C HGV driving test must be passed within the probationary period.
Fire-fighters attend on-going training drills in their fire station in order to maintain competency and skill levels in a variety of areas.
As a Fire-fighter you will be called upon to tackle a wide range of emergency situations where your problem-solving skills and initiative will be vital to resolve issues quickly and calmly. Incidents vary from tackling fires and rescuing people from burning buildings to dealing with chemical spillages and road traffic collisions. There are certain personal attributes that you will need to help you fulfil your role as a Fire-fighter.
They include confidence, resilience, adaptability, effective communication skills, integrity and a commitment to diversity. You will be expected to take responsibility for developing your own skills and ensuring that your fitness levels are maintained as the work can be demanding, both physically and mentally. 
As well as responding to emergencies, fire-fighters may also be required to work in the area of Community Fire Safety. This will involve engagement with the public by way of talks or demonstrations to schools, community groups or businesses within their station ground in the area of fire safety.
Useful Information
LGMSB Medical Information for Retained Firefighters (pdf)
Chester Step Test Description (pdf)
Chester Step Test Pre Test Information (pdf)
Fire Officers
Fire officers typically work on a full-time permanent basis and are based at one of four offices located in the functional area of Cork County Fire Service. The general areas in which fire officers work are: Operations, Fire Prevention, Major Emergency Management & Building Control. 
The role of a fire officer includes administration and implementation of the Building Control Acts, Building Regulations, Fire Services Act and other legislation, including Dangerous Substances and Energy Performance of Buildings. Duties of the role include inspections, assessments, validation, licensing, giving advice and enforcement under relevant legislation. 
Fire officers will be required to undergo specific training and may be required to attend certain incidents as a Rostered Senior Fire Officer where necessary.
There are several ranks at which fire officers operate at up to the highest rank of Chief Fire Officer.
A third level qualification at Level 8 or higher in certain disciplines is required to become a fire officer. Fire officer vacancies are advertised on the Cork County Council Website and www.publicjobs.ie.