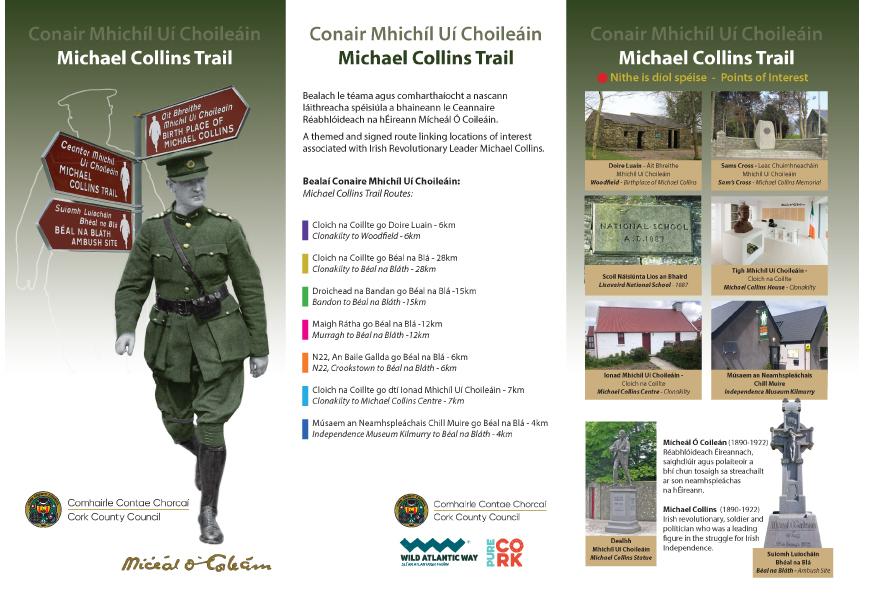 A themed and signed route linking locations of interest associated with Irish Revolutionary Leader Michael Collins.
Developed by Cork County Council, the trail has been designed to act as a historical guide, linking locations and providing tourists with an easy way of following the route and immersing themselves in the life of one of Ireland's most important historical figures.
The Michael Collins Trail consists of 140 signs and waypoints throughout West Cork.
Clonakilty to Woodfield
Woodfield is the location of the Collins family farm and the birthplace of Michael Collins. Here the remains of the original cottage in which Collins was born still stands while the foundations of the larger house in which he spent his youth and was later burned by Crown forces can be seen. Travel west along the N71 through the village of Lisavaird, where Collins attended to local National School. Turn right (L4003) and travel 1km, keeping left at the fork in the road to arrive at Michael Collins Birthplace. Return to the L4003 continue on the road to Sams Cross, the location of Michael Collins maternal grandmothers home, a monument dedicated to Collins and the Four Alls public house where Collins and his convoy stopped for a drink on his journey towards Béal na Bláth.
Clonakilty to Béal na Bláth
From Clonakilty, take the R588 Enniskeane road. Passing a memorial for Jeremiah McDonald, a Free State soldier and friend of Michael Collins who was killed just days before Collins death on August 18th 1922. Follow the Michael Collins Trail signs through the mid Cork countryside to Béal na Bláth.
Bandon to Béal na Bláth
Having visited the towns of Macroom, Bandon, Clonakilty and Skibbereen earlier in the day of August 22nd, 1922, Michael Collins returned to Bandon later in the afternoon. It was here in Bandon, outside of Lee's Hotel (now the Munster Arms), that the last known photograph of Michael Collins was taken. This photograph has been brought to colour and is available to see at the Old Cork in Colour Exhibition on Spike Island. Along the Bandon to Béal na Bláth road (the L-2011) it was at Farranalough where the convoy was last spotted prior to the ambush at Béal na Bláth, which took place at circa 19:30 in the evening.
Murragh to Béal na Bláth
Murragh, on the main road between Bandon and Dunmanway, and east of the villages of Ballineen and Enniskean, had seen its own action during the War of Independence, where one can see a memorial to I.R.A. Volunteer Geoffrey Canty who was shot dead in May 1921. The 12km road from Murragh to Béal na Bláth passes through Newcestown, a point where Michael Collins had stopped on the morning of August 22nd, 1922, en route from Macroom to Bandon. There were a number of anti-Treaty Safe Houses in Newcestown and surrounds, including one that catered for a number of gunmen both before and after the ambush at Béal na Bláth. 
N22, Crookstown to Béal na Bláth
On the morning of 22nd August 1922, a number of roads were closed in the area and the convoy, which would typically have passed through Crookstown, passed through Kilmurry instead. Following the ambush at Béal na Bláth, the body of Michael Collins journeyed to Crookstown and then on to Cloughduv, where the convoy called to a local priest. The journey back to Cork City following the killing of Michael Collins at Béal na Bláth was later described by Emmet Dalton as a nightmare ride. The winding narrow road leading to Béal na Bláth from Crookstown is little changed from 100 years ago and gives a sense of what the local terrain was like. 
Clonakilty to Michael Collins Centre
Travel from Clonakilty eastwards of the N71 Bandon road turning right onto the R600 Timoleague road. Follow for 2km and turn left onto the L8085 for Michael Collins Centre. Michael Collins Centre, Castleview is a privately run visitor centre that gives daily talks on Michael Collins along with a full-scale replica of Béal na Bláth and more. Seasonal hours apply.
Independence Museum Kilmurry to Béal na Bláth
Independence Museum Kilmurry and the crossroads at Béal na Bláth are connected via a 3km stretch of road (L-2003-0). The Museum was officially opened by Uachtarán na hÉireann Michael D. Higgins on Sunday 21 August 2016 and it is along this very road that the National Army convoy, which included Michael Collins himself, was first spotted by anti-Treaty forces on that fateful morning of August 22nd, 1922.