A Welcome from the Mayor of County Cork, Cllr. Mary Linehan Foley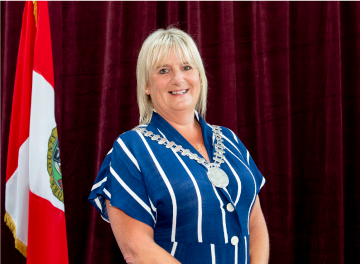 It gives me great pleasure to welcome you to Cork County Council's website. I believe that you will find its contents, links and online services to be of great interest and value.
The County Mayor and Elected Members of Cork County Council are supported by the Executive which is led by the Chief Executive, Mr Tim Lucey. You can find more information on my fellow Councillors on this website, including contact details, Minutes of Council meetings are also available. 
There are 55 Elected Members, representing the 10 electoral areas, corresponding to the 8 Municipal Districts. Elected Members, or Councillors, are elected for a five-year term by you, the citizens of County Cork. The next Local Elections are in June 2024.
Cork County Council has developed this website to be one which is accessible and easy to use, providing timely and relevant content in a navigable format. You will find information on topics that interest you, as well as information on services that you can access.
I believe that it is of utmost importance that citizens feel connected to their local Council and their Elected Members; this website is but one of a range of channels of communication between Cork County Council and the communities and stakeholders in our county.
Thank you for visiting Cork County Council; I hope you find what you're looking for, and that you continue to visit the site as new features are added over time.
Best wishes,
Mary Linehan Foley, Mayor of the County of Cork.
Any group wishing to invite The Mayor of The County of Cork or their Deputy to attend a function should complete the below form and submit to:
Corporate Services, Cork County Council
Floor 14, County Hall, Carrigrohane Road, Cork, T12 R2NC
Phone: 021-4285367
Email: mayor@corkcoco.ie
Mayor's Event Protocol 2019 (English)
                                  Mayor's Diary for Monday, 14th of September 2020
- Sunday, 20th of September 2020
Monday, 14th September
10.00am Full Council Meeting
Council Chamber, County Hall, Cork
Mayor to attend
Tuesday, 15th September
1.00pm Campaign Launch to Promote E bikes, Cork Bike Week and European Mobility Week.
Location TBC
Mayor to attend
3.00pm Project Act, New Wind Breakers.
Cobh, Co. Cork
Mayor to attend
Wednesday, 16th September
3.00pm Beach Clean Up Project.
Inch Beach, Co. Cork.
Mayor to attend
Friday, 20th September
11.00 am Development Committee
County Hall, Cork.
Mayor to attend
Mayor's Diary may be updated throughout the week
The Corporate Policy Group (CPG) is a Committee of the Council and is established under Section 133 of the Local Government Act 2001. It comprises the Cathaoirleach of Cork County Council who chairs the group, the chairpersons of the Council's Strategic Policy Committees, and the chairs of each Municipal District.
The role of the CPG is to advise and assist Elected Members in the formulation, development, monitoring, and review of policy. It may also make proposals for the allocation of business between SPCs and for the general coordination of business.
The CPG also may promote coordination, consistency, effectiveness, and avoidance of duplication in the performance of functions of the Council by Municipal District members. 
The Chief Executive is obliged to consult with the CPG in the preparation of the Corporate Plan and in the drafting of the Council's draft budget. The CPG may also request the Chief Executive to provide a report to it on any matter relating to a function of the Council.
The current membership of the CPG is:
Tim Lucey, Chief Executive
Mayor, Cllr. Christopher O'Sullivan
Cllr. John Paul O'Shea
Cllr. Anthony Barry
Cllr. Frank O'Flynn
Cllr. Declan Hurley
Cllr. Michael Hegarty
Cllr. Gobnait Moynihan
Cllr. Seamus McGrath
Cllr. Alan Coleman
Cllr. Patrick Gerard Murphy
The CPG meets regularly.