Carrigaline Municipal District and Newport News, Virginia US Sign Twinning Agreement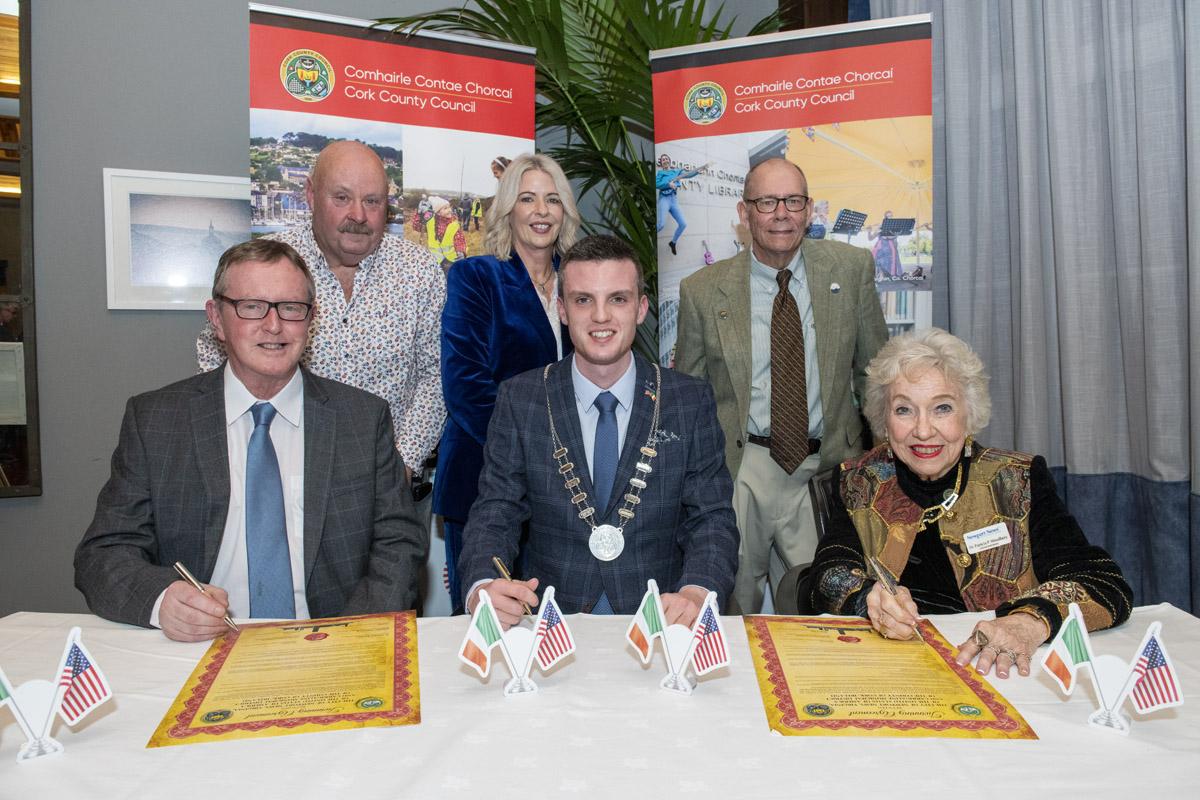 Carrigaline Municipal District and the City of Newport News, Virginia, US have signed a Twinning Agreement at Carrigaline Court Hotel on March 19th. The signing ceremony was attended by 12 delegates from Newport News, including Councilwoman Dr. Patricia P. Woodbury and President Frederick J. Kohlman, Jr. of Sister Cities of Newport News Inc.
The agreement was signed by Valerie O'Sullivan, Divisional Manager, Cork County Council, Cllr. Ben Dalton O'Sullivan, Chair of Carrigaline Municipal District, Jim Kelly, Carrigaline Twinning Association and Michael Wall, Carrigaline Community Association. It will be countersigned in Newport News in June.
The Twinning Agreement formalises a strong bond of friendship between the two regions, building bridges of understanding and fostering mutual development. This is prompted by the strong historical link between Newport News and Carrigaline, as Newport News was established by settler Daniel Gookin of Carrigaline following his arrival on the shores of the James River in 1621. Today, Newport News is a city with a population of over 186,000 located in the Hampton Roads region of Virginia.
"We are delighted to extend the hand of friendship to our visitors from Newport News. The signing of the twinning agreement between Newport News and Carrigaline MD is an exciting development that will strengthen our ties of heritage, commerce and friendship," said Cllr. Ben Dalton O'Sullivan.
During their stay, the US delegates visited a number of sights in Carrigaline and the surrounding area. Highlights included participating in the St. Patrick's Day Festival in Carrigaline on March 17th and in the Crosshaven St. Patrick's Day Festival which took place on the following day. On Saturday 18th May the delegation joined Carrigaline Tidy Towns Committee for an Oak Tree Planting Ceremony, followed by a tour of the Carrigaline Mens Shed.  Concluding the visit, the Newport News delegates attended a reception at Carrigaline Court Hotel on the evening of March 19th for the official signing of the Twinning Agreement.
"This is a great opportunity for both regions to learn from each other and grow together," said Divisional Manager of Cork County Council, Valerie O'Sullivan. "We look forward to a long and fruitful partnership between Carrigaline MD and Newport News in the years ahead."