Look at our visual guide/social story to know what to expect during your visit.
Reference and Local Studies is a specialist department in the County Library. It answers requests daily for information on a wide range of topics, mainly local studies, genealogy and general reference queries. This department has an extensive collection of specialist reference works, encyclopaedias, almanacs, yearbooks, atlases and other reference tools. It is also the County Library's main repository for local history materials, including books, newspapers and maps.
Contact email address: localstudieslibrary@corkcoco.ie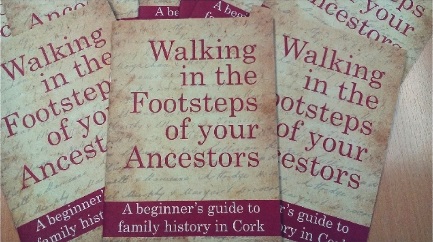 With advance booking we can assist you with your research when you come to use Family History resources. Please contact localstudieslibrary@corkcoco.ie or phone 021 4285640.
A very helpful guide to the subject called Walking in the Footsteps of Your Ancestors; a beginner's guide to family history in Cork has been compiled by the Local Studies library. The online version of this book can be accessed by clicking on this link above. We hope researchers will find this useful.
Please visit www.corklocalstudies.ie for further information about Cork local history and to view our local digital collection which includes previous exhibits, photographic collections, digitised material from our Cork and Irish Collections as well as a selection of local history journals.
The Cork County Library Newspaper Archive is located in the Reference and Local Studies Library on Floor 2 of the County Library Building on the Carrigrohane Road. The bulk of the collection is stored on microfilm. To access items held on microfilm, it is advisable to pre-book a microfilm reader. Bookings can be made well in advance of an anticipated visit.
For a list of the newspaper titles held in our Newspaper Archive, see Newspaper Archive Holdings below:
Newspaper Title

Dates of Holdings

Format

Avondhu

From 1995 (ongoing).

Bound

Carrigdhoun Weekly

March 1993 to March 1995; January 1996 to December 1997.

Bound

Celtic Times (copy)

February to December 1887.

Bound

Constitution or Cork Morning Post

Jan 1912 - July 1922 13th December 1822 to 30th June 1823; 2nd July 1823 to 31st December 1823; 2nd January 1824 to 31st December 1824.

Microfilm and bound

Cork Daily Advertiser

October 1836 to 21st January 1837.

Microfilm

Cork Evening Herald

9th September 1833 to 7th October 1836.

Microfilm

Cork Examiner (now Irish Examiner)

From 30th August 1841 (ongoing).

Microfilm

Cork Gazette and General Advertiser

1795.

Microfilm

The Corkman

From 1995 (ongoing).

Bound

Cork Merchantile Chronicle

1801 to 1818; 1823; 1825 to 1828; 1832 to 1835.

Microfilm

Cork Sentinel

19th January 1831 to 3rd September 1831.

Microfilm

Cork Sportsman

30th May 1908 to 9th October 1911.

Microfilm

Cork Standard

1837.

Microfilm

Cork Sun

18th April 1903 to 1905.

Microfilm

Cork Total Abstainer

1841.

Book/Cork Coll.

Cork Weekly Times

4th October 1833 to 26th September 1834.

Microfilm

Dublin Evening Post

1828 to 1830; 1851 to 1853.

Bound

Fáinne an Lae

1898 to 1899.

Bound

Freeman's Journal

4th December 1792 to 3rd April 1798; 1st January 1848 to 17th March 1851; 20th December 1890 to 17th February 1892; 17th December 1919 to 7th January 1922.

Microfilm

The Guardian (London)

1878.

Bound

Hibernian Chronicle (Cork

1769 to 1800.

Microfilm

Illustrated London News

January to June 1848; 1849; July 1850 to June 1851; January to June 1853; July 1855 to June 1856; 1858 to 1859; January to June 1877.

Bound

Imokilly People

January 1993 to April 1995; February 1998 to October 1999; From September 2002 (ongoing)

Bound

Inside Cork

1999.

Bound

Irish Freedom

November 1910 to December 1914 (incomplete).

Bound

Irishman

July 1859 to June 1864; 1877.

Bound

The Irish Times

From 30th march 1859 (ongoing).

Microfilm

Limerick Chronicle

1831.

Bound

Morning Register (Dublin)

23rd January 1833 to 31st December 1833.

Bound

Munster Advertiser

20th April 1839 to 8th May 1841.

Microfilm

Muskerry Leader

September 1987 to 3rd February 1989; May 1992 to 2000.

Bound

The Nation

 

October 1843 to 1847 (incomplete); 1849 to 1850; 31st August 1850 to 23rd August 1851; 1854 to 1856 (incomplete); September 1857 to August 1858; 1858 to 1859; November 1865 to August 1867; 1875; 1879.

Bound

The New Era

1899.

Bound

The Patriot (Dublin)

August 1821 to July 1822.

Bound

People's Press and Cork Weekly

20th September 1834 to 10th February 1836.

Microfilm

Province of Munster

27th January 1849 to 29th December 1849.

Microfilm

Sinn Féin

22 June 1912 to 29 November 1913.

Microfilm

Skibbereen and West Carbery Eagle; later West Cork Eagle and County Advertiser; later Eagle and Cork County Advertiser; later Cork County Eagle and Munster Advertiser

7th September 1861 to 8th July 1922; August 1927 to December 1928.

Microfilm

Southern Cross (Buenos Aires)

1997 to 1998.

Bound

Southern Patriot (Mallow)

10th February 1844 to 13th March 1844.

Microfilm

Southside News (Cork)

1996 to 1998.

Bound

Southern Reporter (Cork)

1817 to 1819; 1823 (bound vol.); 1824; 1826 to 1827; 1830 to 1836; 1847.

Microfilm

Southern Star (Skibbereen)

June 1921 to 1935; From 1978 (ongoing).

Microfilm

United Ireland (Ireland)

August 1893 to July 1895.

Bound

Vale Star (Mallow)

From 26th September 1991 (ongoing).

Bound

Weekly Freeman (Dublin)

October 1883 to February 1884.

Microfilm

The West Cork People

29 Jul-30 Dec 1905, 1906, 1907, 4 Jan–25 Jul 1908

Microfilm

The Youghal Tribune

1940 - 1957

Microfilm