Children are never too young to join the library.  Membership is free and you can borrow up to 12 items from the children's library.
We have regular events and activities for children and teenagers such as story-time, toddler groups, author visits, puppets-shows, craft and writing workshops and book clubs. Check our calendar or with your local library to see what is happening in your area. 
The Superhero from Cork" creative writing competition for primary school children was open to 4th, 5th and 6th class pupils from schools in Cork County.  
 
We couldn't get books to the children due to libraries being closed so we asked them to write a story for us instead.  
 
Three winners were picked, one from each class group but all entries to the competition will be stored in a special COVID-19 archive that is being compiled by the Local Studies Department of Cork County Council Library and Arts Service.  This resource will be used by historians of the future when they are looking back at these extraordinary times of COVID-19.  
The winners are:
Slaney O'Brien from Scoil Phadraig Naofa, Rochestown, Co Cork (6th class winner)
Katie O'Regan from Scoil Naomh Fionan, Rennies, Co Cork (5th class winner)
Donnacha McMahon from Newtownshandrum NS, Co Cork (4th class winner)
 
The winning stories will be featured in the "Kidzone" section of Cork's Evening Echo on Monday June 8th, 15th and 22nd and also on Red FM with Dave Mac between 4 – 7 pm on Monday June 8th.  
 

Cork County Library and Arts Service will soon launch the Summer Stars reading programme and it will run during June, July and August.  Join us this year as we offer Summer Reading from your local library, e-books and e-audiobooks from Borrowbox, puzzles and competitions, book readings and other fun to keep you entertained through the Summer.  Follow our social media updates on Facebook and Twitter for more information.
Oxford Art Online
Oxford Art Online is an innovative gateway that offers users the ability to access and search the vast content of Grove Art Online and Oxford art reference in one location. This database can be accessed here by entering your library card barcode.
Oxford Music Online
Oxford Music Online is a gateway that offers users the ability to access the vast resources of Oxford's music reference in one location. The cornerstone of Oxford Music Online, Grove Music Online, has been completely redesigned with a number of functional enhancements and new content. This database can be accessed here by entering your library card barcode.
E-Books and E-Audiobooks
Click here to access the service. You will then need to login using your library card barcode and PIN.
This service offers both E-Audio and E-Books to all library users and these can be enjoyed either on your PC/laptop via the website link (above) or on your mobile device via the BorrowBox app.
For Apple users, visit the iTunes App store and search for BorrowBox. For Android users, visit the Google Play store and search for BorrowBox (one word). For Kindle (Kindle Fire is the only type of Kindle which supports the Borrowbox app) visit the Amazon App store at BorrowBox. Once you have installed the app on your device search for Cork County Library in the 'Library' field provided and then login in the usual way with your library barcode and pin.
A simple user guide is provided here and a list of frequently asked questions and answers to those is provided here. 
If you are having difficulties with accessing or using the service please contact support@bolindadigital.com who will help you with your query.
Register at your local library to take part in our annual Summer Stars reading programme and receive your Summer Reading Card .
For every book you read during July and August,  a library reward stamp is added to your Summer Reading Card – see how many you can collect!
After the programme, all children who participate will be invited to attend an award event at their local library and will be presented with their award certificate.
We hold children's book clubs too in selected locations subject to local demand.
Please check with your local branch for information.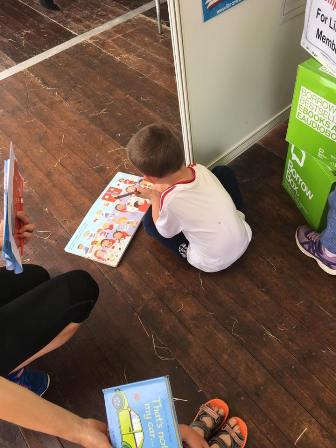 Looking for a good book to read?
Not sure what to read?  Your librarian is always on hand to make suggestions and give advice.
There are also several annual children's book awards such as Children's Books Ireland, Irish Book Awards and The CILIP Carnegie and Kate Greenaway Children's Book Awards and Costa Children's Book of the Year where recommendations for the very best books in all genres and age groups can be found.
If you don't see the book you are looking for in your local library you can request it at the library desk or through our Library Catalogue.