Children are never too young to join the library.  Membership is free and you can borrow up to 12 items from the children's library.
NEWSTART is an Early Years literacy programme supporting Numeracy, Literacy and Writing skills. 

NEWSTART, supported by the Department of Rural & Community Development and Dormant Account funds, is a free programme which offers literacy information, practical videos and TTRS (Touch-Type Read and Spell), a multi-sensory online course that teaches touch-typing, reading and spelling at the same time.
It aims to support children with reading, writing, spelling and counting, keyboard skills and literacy issues including dyslexia and dyspraxia incorporating advice and input from registered professionals in the field, delivered via online and print content. 
NEWSTART Literacy Information Booklet provides help to parents and carers to support their child with Numeracy, Literacy and Writing. It is full of valuable advice including book recommendations, story time skills, early reader lists and homework hints. This programme is available through all of the library branches and mobile libraries of Cork County Council Library and Arts Service.
 Dolores Casey, Executive Librarian, Child and School Services, chats to Jess Kennedy, Occupational Therapist from MYOT&ME about how to deal with issues that arise with a child who has a sensory difficulties. The topics discussed are how to get your child to sit still, school and homework and managing their organisational skills. There are three other videos by Jess with tips on play, fine motor skills and gross motor skills.
Lorraine O'Donnell (MyDyslexiaTutor)  
Dolores Casey, Executive Librarian, Child and School Services, chats to Lorraine O'Donnell, My Dyslexia Tutor about managing your child's dyslexia diagnosis and how to manage emotions, social interactions, school and nurturing creativity.

TTRS: Touch-Type Read & Spell

Touch-Type Read Spell (TTRS) is a literacy-friendly, web-based touch-typing course which teaches touch-typing, reading and spelling at the same time. It is suitable for children from the ages of 7-8 years up. It is used by the Dyslexia Association and encompasses seeing, hearing and typing so is a multi-sensory program. It is part of the NEWSTART literacy programme offered by Cork County Council Library and Arts Service.
This programme aims to help children with: 
•    Reading, Writing, Spelling and Counting. 
•    Computer Keyboard Skills. 
•    Literacy issues such as dyslexia.

This programme would benefit:
•    Students who experience spelling, reading or writing difficulties. 
•    Students learning English as a second language (ESL).

This programme offers:
•    Step-by-step online TTRS tuition with feedback and scores. It can be accessed by students in school or at privately at home (requires a device with a keyboard attached). 
•    Informational videos with input from an Occupational Therapist and Dyslexia Tutor. 
•    Literacy information with help for reading, writing and numeracy.

For more information contact your local library branch or mobile library. 
We have regular events and activities for children and teenagers such as story-time, toddler groups, author visits, puppets-shows, craft and writing workshops and book clubs. Check our calendar or with your local library to see what is happening in your area. 
The Superhero from Cork" creative writing competition for primary school children was open to 4th, 5th and 6th class pupils from schools in Cork County.  
 
We couldn't get books to the children due to libraries being closed so we asked them to write a story for us instead.  
 
Three winners were picked, one from each class group but all entries to the competition will be stored in a special COVID-19 archive that is being compiled by the Local Studies Department of Cork County Council Library and Arts Service.  This resource will be used by historians of the future when they are looking back at these extraordinary times of COVID-19.  
The winners are:
Slaney O'Brien from Scoil Phadraig Naofa, Rochestown, Co Cork (6th class winner)
Katie O'Regan from Scoil Naomh Fionan, Rennies, Co Cork (5th class winner)
Donnacha McMahon from Newtownshandrum NS, Co Cork (4th class winner)
 
The winning stories will be featured in the "Kidzone" section of Cork's Evening Echo on Monday June 8th, 15th and 22nd and also on Red FM with Dave Mac between 4 – 7 pm on Monday June 8th.  
 

Cork County Library and Arts Service will soon launch the Summer Stars reading programme and it will run during June, July and August.  Join us this year as we offer Summer Reading from your local library, e-books and e-audiobooks from Borrowbox, puzzles and competitions, book readings and other fun to keep you entertained through the Summer.  Follow our social media updates on Facebook and Twitter for more information.
E-Books and E-Audiobooks
Click here to access the service. You will then need to login using your library card barcode and PIN.
This service offers both E-Audio and E-Books to all library users and these can be enjoyed either on your PC/laptop via the website link (above) or on your mobile device via the BorrowBox app.
For Apple users, visit the iTunes App store and search for BorrowBox. For Android users, visit the Google Play store and search for BorrowBox (one word). For Kindle (Kindle Fire is the only type of Kindle which supports the Borrowbox app) visit the Amazon App store at BorrowBox. Once you have installed the app on your device search for Cork County Library in the 'Library' field provided and then login in the usual way with your library barcode and pin.
A simple user guide is provided here and a list of frequently asked questions and answers to those is provided here. 
If you are having difficulties with accessing or using the service please contact support@bolindadigital.com who will help you with your query.
Who Next...?
Who Next...?A guide to children's authors
This resource has been designed to suggest other authors which children might enjoy reading similar to ones they may have already read.
To access, please login with your library card and choose Cork County Library.
Oxford Art Online
Oxford Art Online is an innovative gateway that offers users the ability to access and search the vast content of Grove Art Online and Oxford art reference in one location. This database can be accessed here by entering your library card barcode.
Oxford Music Online
Oxford Music Online is a gateway that offers users the ability to access the vast resources of Oxford's music reference in one location. The cornerstone of Oxford Music Online, Grove Music Online, has been completely redesigned with a number of functional enhancements and new content. This database can be accessed here by entering your library card barcode.
Summer Reading Programme 
We are delighted to announce that Cork County Council Library and Arts Service Summer Arts and Summer Stars Reading Programmes will go ahead again from June to August 2021. 
We will be encouraging all children in Cork County to sign up and read and take part in our wonderful series of arts events during the Summer holidays. 
Each child who registers for Summer Stars will receive a Summer Stars bookmark and pencil and a reading card that they fill out as they read books during the Summer. 
A programme of art and craft workshops for children from Cork County Arts office will also be announced very soon!
We will be celebrating Cruinniú na nÓg a day of creativity for children and young people, on June 12th and will launch our series of Summer Arts activities organised by the Cork County Arts Office so there will be loads going on to keep young children busy during the Summer months!
Basher Bacon will also be with us on YouTube, to celebrate Cruinniú na nÓg on June 12th; we are looking forward to a wonderful creative summer!
We hold children's book clubs too in selected locations subject to local demand.
Please check with your local branch for information.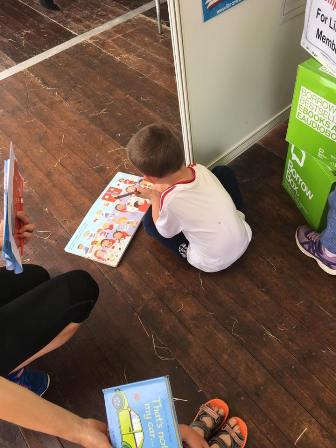 Looking for a good book to read?
Not sure what to read?  Your librarian is always on hand to make suggestions and give advice.
There are also several annual children's book awards such as Children's Books Ireland, Irish Book Awards and The CILIP Carnegie and Kate Greenaway Children's Book Awards and Costa Children's Book of the Year where recommendations for the very best books in all genres and age groups can be found.
If you don't see the book you are looking for in your local library you can request it at the library desk or through our Library Catalogue.